Celebrate our SBS win with us!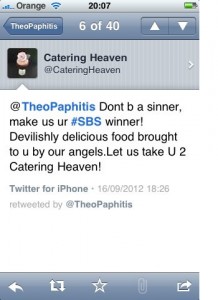 If you are on Twitter and follow the popular BBC Dragons Den member, Theo Paphitis, you may be familiar with his weekly #SBS competition.
Catering Heaven have been personally selected by Theo Paphitis as one of the 6 winning companies who tweeted him including the hashtag #SBS on Sunday 16/09/2012!
(Our winning tweet is shown in the image on the left)
Theo re‐tweeted Catering Heaven"s message to his 260,000 followers and as a online casino result, we"ve had 100 more followers within 24hours of winning and extra orders for our catering, cakes and cupcakes. We are also profiled on a new website (www.theopaphitissbs.com) that is exclusive to Small Business Sunday winners – why not check it out?
 Owner of Catering Heaven Chris Pierce: "When we discovered slots online spielen we had been re-tweeted by the legendary Theo Paphitis, we were absolutely bursting with joy! What an honour! We can"t wait to meet the other lucky SBS winners and to deliver orders to SBS fans. "
(Anyone looking for a re‐tweet from Theo should tweet him about their business on Sunday between 5 PM and 7.30 PM and include the hashtag #SBS. Six lucky businesses are re‐tweeted every Monday at 8 PM and then invited to enter their profile on the new website. )

Get in touch with us today for more information about our services, for a personalised quote or to place your order!