Do you dream of cupcakes?! We do!
Catering Heaven puts love, care, attention to detail and time into every single made to order box of cupcakes we produce for our customers. 

We currently have a range of delicious classic cupcake flavours available to order – check out the full list of our classic cupcake flavours here. We have also recently launched our new speciality range of cupcakes which can be viewed here.
Every cupcake that we offer has been tried and tested by our team to ensure that you receive a moist, tasty cupcake decorated for any occasion! 
Classic Decoration Cupcakes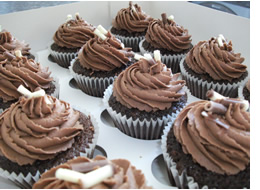 Each cupcake flavour is accompanied by a recommended buttercream flavour and standard classic decoration ranging from chocolate curls to silver balls.
View our classic cupcake photo gallery here.
Want to choose your own decoration? Why not Design Your Own Cupcakes?
Novelty Design Cupcakes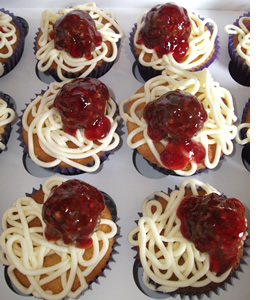 At Catering Heaven, we offer designs to suit any occasion and theme that you may be looking for.  Whether you want elegant roses atop your cupcakes or a selection in the theme of your child's favourite TV character, let us know and we will see what we can do!
Novelty cupcake theme ideas might include:
Meatball cupcakes (As pictured)

Christmas themed cupcakes

Halloween themed cupcakes

Swimming cupcakes

Sporting themed cupcakes

….whatever your imagination can conjure up!
Stuck for ideas? View our novelty cupcake design gallery for some inspiration!
Birthday Cupcakes
Cupcakes are perfect for a birthday display or even a gift for someone special! Both adults and children  love our cupcakes and whether you want to order cupcakes alongside a larger birthday cake or as a complete display in themselves, we can help.  Our minimum order is 12 cupcakes – the perfect number for a small party or personlised present for someone special.
Wedding Cupcakes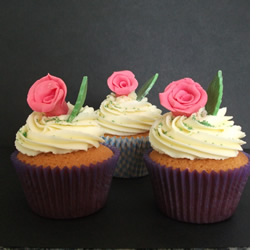 Cupcakes make a delicious and personal alternative, modern twist to a larger wedding cake.  Why not consider still having a smaller wedding cake at the top of your display, surrounded by cupcakes cascading down the tiers?  Whether you want icing hearts, butterflys, roses or any other decoration to your cupcakes, Catering Heaven and will customise to match a theme or colour scheme, adding that extra special touch to your day.
Why not serve your wedding cupcake display as your desert? Or we can provide individual boxes, perfect for gifts to take their cupcake home with them.  Cupcakes can also make the perfect, personalised wedding favours! Contact us to discuss your wedding cupcake needs!
Other Special Occasion Cupcakes
If you haven't guessed already, cupcakes are perfect for any occasion! A friday afternoon treat in the office, a birthday party, wedding, fathers day present, christmas present…anytime, any place, there is a cupcake for any occasion, to suit any taste from Catering Heaven!  Let your imagination (and taste buds) run wild with our selection of cupcakes.

How To Store Our Cupcakes
Our cupcakes should be stored in an airtight container at room temperature, and eaten within 4 days of delivery.  Our cakes can be frozen if required – be sure to wrap them well in clingfilm or something similar.  We would not suggest storing our cupcakes in the fridge as this may dry out the cakes.
Delivery Of Our Cupcakes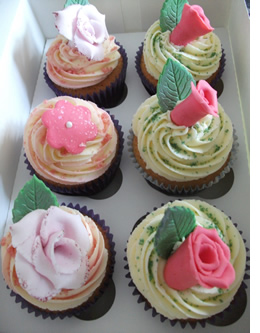 We only hand deliver our cupcakes as they are too delicate to trust to the postman! We deliver for free within 3 miles of Orpington, Kent, but also deliver to surrounding areas in Kent and South East London for a small additional charge.
We ask for a minimum order of 6 cupcakes per flavour.
Do you live in Orpington, Chislehurst, Bromley, Beckenham, Swanley, Bexley, Eltham, Croydon and surrounding areas?
Get in contact with us today for a quote or to place your order!