Get ready for Father"s Day 2012!
Are you bored of buying your Dad the same old Father"s Day gift of socks/hankies/chocolates/games etc?!  Why not try something new this year and give your Dad the gift of food!
Whether you are planning a big party for the original special man in your life, or a small family gathering, Catering Heaven can help make Father"s Day go smoothly by providing the party catering, cupcake display or occasion cake designed specifically for you.
Why not order a themed cake/cupcakes for your Dad – perhaps with a sporting theme depicting football, golf or rugby.  Or how about we recreate a family favourite meal on cupcakes! I would definately recommend trying out meatball cupcakes! (No real meatballs are used in the making of these cupcakes! They consist of a vanilla cupcake covered in icing spaghetti with Ferrero Roche meatballs and a jam sauce! As shown in the picture below…) When it comes to themed cakes/cupcakes, the possibilities are endless!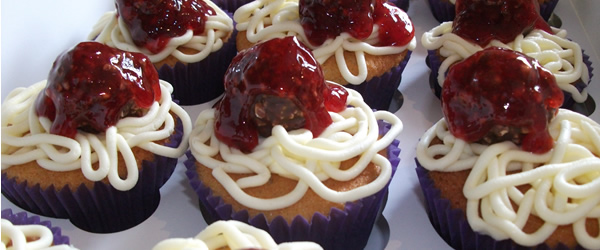 Before your Dad fills up on all that yummy cake, why not order an amazing Catering Heaven buffet filled with all your favourite classic nibbles including homemade sausage rolls, sandwiches, scotch eggs and much more! Or perhaps, you Dad would prefer a delicious selection of canapes? Whatever your tastes, Catering Heaven will devise a menu to suit your needs and budget.
Don"t struggle for a Father"s Day gift idea this year – Contact us to make all you Dad"s dreams come true!