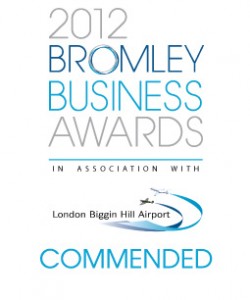 We unfortunately did not win the category we entered, but were lucky enough to be commended at this year"s Bromley Business Awards.
The Bromley Business Awards, now in their second year, are organised by South London Business, in association with Biggin Hill Airport, to showcase the best businesses in the borough.
More than 100 firms of all shapes and sizes entered this year across nine categories and the top category, Business of the Year, was selected from among the nine category winners.
Robert Walters, Business Development Manager at Biggin Hill Airport, the principal sponsor reminded nominees that everyone is a winner. He said: "It is awards like these that demonstrate to others in business that companies of all sizes can succeed, and those nominated tonight provide the inspiration to do so.
"The awards recognise the contribution of vibrant businesses also fighting to buck the economic trend and add value to our local area. I'd like to congratulate all business that entered. Each one is a success story in its own right, with valuable lessons we should all take on board."
With news that the UK was out of recession, the Chairman of South London Business, Sir Bob Scott, reminded the audience that tough times are still ahead but he said, "it is the business community and companies in this room that will lead us out of this extraordinary difficulty."
Also referring to economic news, Councillor and Bromley Mayor, Michael Turner, said: "The awards are an opportunity to celebrate the best businesses in Bromley and it seems quite appropriate that we're holding these awards this evening because we've heard that we've come out of recession."
The awards were free to enter and open to businesses of all sizes. Companies could nominate themselves, as well as their customers or the general public. A judging panel selected the winners for each category and the overall winner, the Business of the Year.