Please see reviews from previous clients below on our products and service!
If you would like to leave a review, please email us directly at enquiries@cateringheaven.co.uk
Thank you
---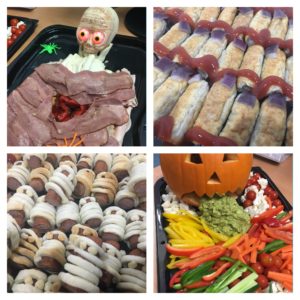 Review from Karen Woods (Westerham) Obsidian Healthcare Group Ltd – Halloween themed buffet – 31st October 2016
Many thanks to Kate and her team for coming up with ideas and providing an amazing array of freshly made spooky food at short notice, the puking pumpkin was a particular favourite.
We will definitely use them again.

Review from Carol (Orpington) – Buffet Food – April 2016
Great buffet provided for a big birthday party catering for vegans and vegetarians as well as the normal meaty & fishy bits.  A variety of delicious finger food beautifully presented along with plates and napkins for a very reasonable price.  Chris is helpful, efficient and obliging.  Can recommend most highly to make a party go with a swing.

Review from Ellie (Chislehurst) – Cupcakes – December 2015
Catering heaven have been incredible every time I have used them. They created personalised cupcakes for the 50th birthday of a relative on very short notice which ended up being beautifully designed and excellent quality.  Without doubt their cupcakes were the highlight of the event! Very prompt delivery and very easy to communicate with also. Would thoroughly recommend to everyone, no matter how big or small the occasion

Review from Mike & Amy (Tonbridge) – November 2015
We had a party at my house to celebrate a 3rd birthday. The food was fantastic! Nobody went hungry and everyone wanted to take an extra plate home! The cake was better than we'd expected aswell. The intricate detail was perfect for the theme that we had chosen, and our guests could not get enough! Chris himself was very helpful, well mannered and ensured that the guests had everything that they needed for a great day. Thanks Chris, your service took a lot of stress out of the day, allowing us to enjoy the day!

Review from Baby Kokos PR (London)  – Sandwich platters and Canapes – 10th November 2015
I would like to personally thank catering heaven for sponsoring our event Jethro SHEERAN's album launch party which was organised by Baby Kokos PR.
Your warm hospitality was exceptional and not only did your posh sandwiches and canapés look incredible they tasted very delicious too.
We look forward to working with your company for our future celebrity events and I will gladly recommend your services to all my business contacts
Kind Regards
Nuraya Kokos ceo of Baby Kokos PR

Review from Penny (Orpington) – Cupcakes – July 2015
I saw our son Ben at the weekend and he said that the cupcakes you delivered for his party on 11th July were "awesome" ! and everyone enjoyed them, I am just sorry that I didn't get to try one!!

Review from Jo Harman – Corporate Lunches & Buffets – April 2015 …ongoing
Bromley & Lewisham Mind have used Catering Heaven for several of our events locally.  They have been a pleasure to work with and have provided us with a prompt and reliable service.  The standard of the food has been very high and has been complimented on by staff and guests.  We look forward to doing more business with you for our up and coming events….

Review from Hoey (Orpington, Kent) – BBQ – 6th June 2015
Catering Heaven are amazing – they provided a summer BBQ for my twins 1st birthday party.  Chris  and his team were professional and helpful during the menu planning, and service on the day was prompt and stress free.  Quality of food and produce was obviously high, we particularly enjoyed the pulled pork and cupcakes!  I would thoroughly recommend Catering Heaven, and will no doubt be using them again in future – thank you!"

Review from Zoe Shaw (Downe, Kent) – Sandwich platters, Finger buffet & Cakes – 8th May 2015
"Many, many thanks from my family and me for the wonderful food and professional and kind manner you provided yesterday,  I have freely and willingly passed on your details to all who asked.!"

Review from Janet Strawn (Event in Petts Wood) – Sandwich platters & Cakes – 23rd March 2015
"Just to say I would thoroughly recommend Catering Heaven. They were very helpful when I was deciding the quantity and type of sandwiches required for the gathering following my father's funeral. The platters arrived as requested, with a lovely selection of fresh sandwiches, plus a variety of small cupcakes. They even supplied the disposable plates. It made arranging the event so easy and worry-free. Thank you!!"

Review from Natalie Clarke (Orpington) – Oreo Cake Order – 22nd March 2015
"I asked Chris if I could have an Oreo cake made for my boyfriend's birthday, I was amazed with how beautifully made it was! The cake tasted like a dream too and I was happy that everyone enjoyed it so much. Thank you catering heaven for such a stunning cake and making it within such a short time frame. I look forward to trying more of your cakes in the future!"


Review from James Yoxall (Orpington) – Treacle Tart Order – 9th December 2014
"I recently ordered a Treacle Tart from Catering heaven. It was absolutely beautiful! And was eaten so quickly, that I wished i had ordered two!
Thanks guys! " 5/5

Review from Anna (Orpington) – Cupcake Order – 8th December 2014
"I ordered some cupcakes for my house warming party. The cupcakes taste as good as they look. Good comments from all my friends. Excellent services, delicious cupcakes at affordable price. Definitely recommend it! "

Review from Sandra Johnson (Chelsfield) – Hot and Cold Buffet – 6th December 2014
"We booked Catering Heaven quite randomly from the internet for a Christmas Party at our house and we were really pleased with the result. The food was excellent and varied, cold and hot finger buffet food catered to our requirements. Cakes were delicious and varied.  The whole experience was pain free for us. Catering Heaven did everything from giving suggested menus to delivering, setting up and leaving cutlery, plates, napkins etc.  We would certainly use them again and recommend them to others.  Well done Catering Heaven."

Review from Parisa Wright – Wedding Cupcakes – 5th August 2014
"Having used Chris's wonderful cupcake and birthday cake services for friends and family events in the past, his delicious cupcake treats were my first choice for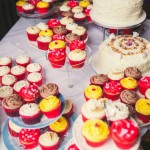 our wedding.
The 120 cupcakes we ordered were delicious, very pretty and the perfect accompaniment to a small wedding cake our family had kindly provided for "the cutting".
The cupcakes helped avoid the mess of having acres of traditional cake and Chris even kindly arranged for a batch of wheat and gluten free cupcakes to help us out with a few guests!
They were yummy and went down very well with the guests – a perfect addition to our special day!"

Review from Dom Amura – BBQ & Buffet – 26th July 2014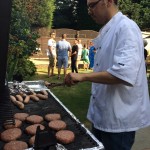 "I just wanted to thank you for yesterday – the canapés, BBQ food and especially your service was excellent – you and your staff were incredibly friendly, and the food was excellent and plentiful given you were catering for 26 people. The selection of food was great and I have to say the price was incredibly competitive, definitely the best value for money of all the quotes we received.
There was no fuss and everyone really enjoyed themselves. I wouldn't hesitate in using you again or recommending you to any of our family and friends"


Review from Susan Green – Funeral Catering – 11th July 2014
"Just wanted to say thank you so much for the buffet you prepared for us. Everything was of the highest quality, beautifully fresh and brilliantly presented. The savoury selection of home made quiches, sausage rolls, scotch eggs and chicken gorgons and thoughtfully selected range of tempting sandwiches, inspired many compliments from the guests. The home made Baileys cheesecake, carrot cake and loveliest cup cakes were all superb and the perfect end to a great lunch.
Thank you for making a difficult time so easy for us. We most certainly will not hesitate to call on you again and will be recommending you to all our friend Chris"

Review from Helen – Cold Buffet for Office Party – 17th December 2013
"The Catering provided for our companies Christmas event was really good – a great variety, delivered on time and very reasonably priced – the cupcakes were amazing! Happy to use you for our quarterly events going forward"

Review from Jackie Killingback – Cold Buffet & Cupcakes – 16th November 2013
"Service was excellent, delivered when required.  Cupcakes gorgeous.  Would not hesitate to recommend" 5/5

Review from Laura Sharp – Hot Buffet – 17th March 2013
"We had a lovely hot buffet for our 60th birthday party. The casserole and curry were a winner with all our guests and the chocolate torte dessert was much praised. Everyone commented on the lovely food and the fact that the breads were home made amazed everyone.  Well done Catering Heaven"

Review from Kate Swan – Cupcakes – 4th March 2013
"Loved the cupcakes you made for a birthday party I went to recently…. they were soooo good I sneakily took two! :-)"

Review from George Sullivan – 21st June 2012
"Chris delivers sandwiches to our office daily which are consistently made with fresh bread and great fillings. He is more than happy to make your requests for the next day and is very good value for money.
I recommend catering heaven!"

Review from Vic & Shirley – 20th May 2012
"Congratulations to Catering Heaven for the splendid food at last night's dinner party.
Good company,good food what more could you ask for? Well done."

Georgina Siddle -16th May 2012
"I absolutely loved my first taste of catering heaven, a fresh, delicious greek salad. The packaging was stylish and sturdy (easily handling a long journey to work in my bag). The salad itself was lovely. With generous helpings of feta and olives which lasted to the last bite, it was so enjoyable I didn't even need salad dressing. I'll certainly use you again and can't wait to watch the business grow."

Paddy Langdown – 29th February 2012
"Without a doubt, the best Lasagne I have ever eaten.
Well done."

Sabrina Barrett – 6th February 2012
"We had a pizza party a few months ago and hired Catering Heaven for it.  Chris made pizzas fresh in front of me and my guests and as soon as they came out of the oven they were straight onto people's plates, there was never a moment where there wasn't any pizza!!
The pizzas were amazing, and the taste was out of this world! The bases were crispy just how pizza bases should be!
We also ordered cupcakes for the occasion and they were fantastic too.
Overall, my guests were EXTREMELY happy and they were full of compliments for the chef!! Thank you Chris! I WILL be using you again!!"